Misadvent Calendar
A downloadable Misadvent Calendar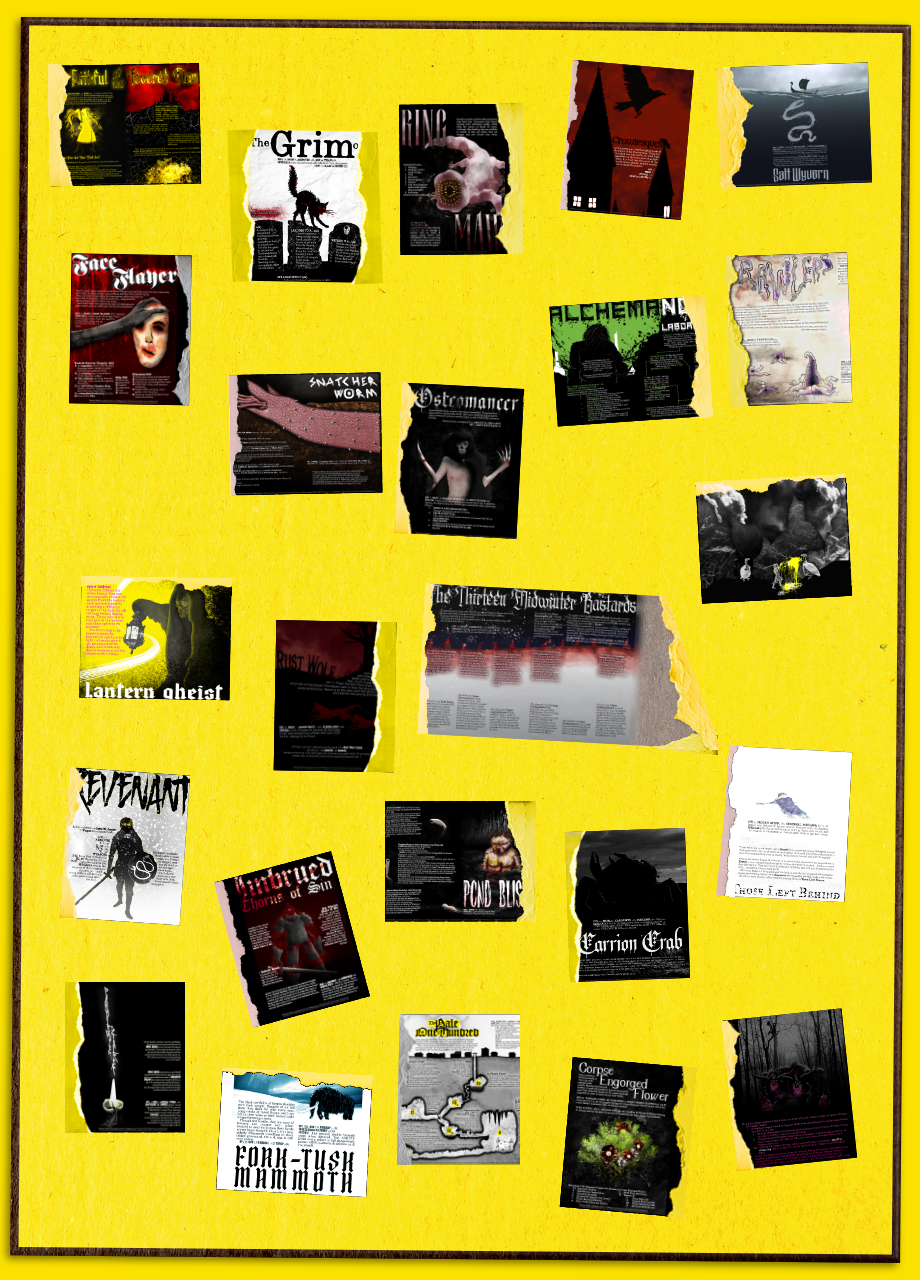 The Misadvent Calendar is a collection of foes statted for use in Mörk Borg (though they are easily converted to other OSR systems). Tearing away each door daily reveals a new foe, complete with lore and stats, and either loot, Vile Objects, mini dungeons, roll tables, or scenarios associated with such foes. Each is presented with full single page or double-spread art.
Tear open a new calendar door one day at a time throughout December 2022, starting on December 1st and ending on December 24th. The price will increase with each door opened, beginning at $1 on the 1st and increasing to a total of $12.50 on Christmas Eve. You only need to pay once: when you purchase this product you will receive the contents of all currently opened doors and will gain all future contents as further doors are opened.
The foe from the first door can be downloaded for free without any purchase in the demo files if you want to check out if this is right for you.
Shortly after the new year begins I will compile all 24 of the revealed foes into one PDF.
Misadvent Calendar is an independent production by Yuigaron and is not affiliated with Ockult Örtmästare Games or Stockholm Kartell. It is published under the MÖRK BORG Third Party License.
MÖRK BORG is copyright Ockult Örtmästare Games and Stockholm Kartell.
Purchase
In order to download this Misadvent Calendar you must purchase it at or above the minimum price of $9.99 USD. You will get access to the following files:
misadvent-calendar_carrion-crab.pdf
3 MB
misadvent-calendar_face-flayer.pdf
5 MB
misadvent-calendar_revenant.pdf
2 MB
misadvent-calendar_grim-of-graven-tosk.pdf
3 MB
misadvent-calendar_crowtesques.pdf
1 MB
misadvent-calendar_those-left-behind.pdf
666 kB
misadvent-calendar_rust-wolf.pdf
705 kB
misadvent-calendar_snatcher-worm.pdf
4 MB
misadvent-calendar_alchemancer.pdf
1 MB
misadvent-calendar_lantern-gheist.pdf
4 MB
misadvent-calendar_vomit-vulture.pdf
2 MB
misadvent-calendar_faithful-of-the-fevered-flame.pdf
7 MB
misadvent-calendar_candlewick-stalker.pdf
690 kB
misadvent-calendar_pond-blister.pdf
4 MB
misadvent-calendar_fork-tusk-mammoth.pdf
1 MB
misadvent-calendar_corpse-engorged-flower.pdf
6 MB
misadvent-calendar_ringmaw.pdf
4 MB
misadvent-calendar_imbrued-thorns.pdf
7 MB
misadvent-calendar_pale-one-hundred.pdf
5 MB
misadvent-calendar_trollflesh.pdf
3 MB
misadvent-calendar_crawlers.pdf
8 MB
misadvent-calendar_osteomancer.pdf
5 MB
misadvent-calendar_salt-wyvern.pdf
1 MB
misadvent-calendar_midwinter-bastards.pdf
8 MB
Download demo